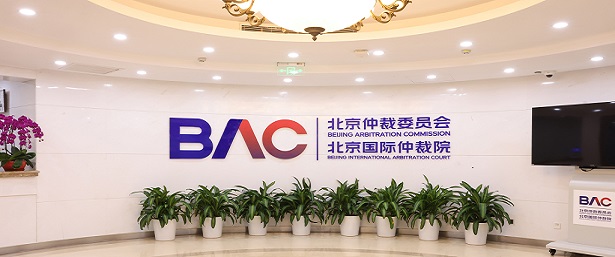 Beijing Arbitration Commission
Beijing Arbitration Commission (BAC), also called Beijing International Arbitration Center, was established on September 28, 1995. It is a permanent arbitration body which settles contractual and property-related disputes among equal parties including natural persons, legal persons and other organizations in an independent, impartial and efficient manner.
Since its establishment, BAC has rapidly developed into an arbitration body with extensive reputation in China. Adhering to its values of "Independence, Impartiality, Professionalism and Efficiency", BAC endeavors to develop into a diversified dispute resolution center combining arbitration, mediation and construction project review, as well as a center for information communication, training, research, publicity and promotion, so as to motivate the development of diversified dispute resolution in China.
With its continuous development, BAC has accumulated rich experience in dealing with international cases, actively participated in international arbitration affairs, and acted as the mouthpiece of Chinese arbitration community in the world. As a result, BAC could consistently grow its global reputation with increasing impact to the world. BAC is recognized as "the only local arbitration commission which meets or surpasses global standards" by the Economic Intelligence Unit, and is recognized as "professionalism, competence and transparency" by Global Arbitration Review (GAR). In addition, BAC was titled the "Runner-up Up-and-coming Regional Arbitration Institute of the Year" in the 2014 GAR Awards. In order to further enhance its global influence and meet the demands of overseas clients, BAC officially began to use its another name, i.e. Beijing International Arbitration Center, at the same time, launched its new arbitration rules on April 1, 2015, so as to provide clients of various nationalities with global standard resolution services in Beijing.

Outstanding Team
The current Chairperson of BAC is Professor LIANG Huixing, a famous civil jurist in China and a Research Fellow of the Institute of Law, CASS. BAC's Vice-Chairpersons and committee members consist of more than ten experts and scholars with profound experience and high prestige in sectors such as law, trade and finance. Therefore, BAC has a spearhead team with great social influence and credibility as well as pioneering spirit.
Led by Secretary General, BAC Office covers daily businesses and execution of committee resolutions. Each staff member of BAC Office is law majors graduates from prestigious universities both from China and abroad. They have solid legal knowledge and excellent comprehensive quality, and also are proficient in multiple foreign languages, thus can provide efficient and quality services to clients from various countries and regions.
BAC now has 627 arbitrators, all of them are senior experts and scholars with proficient legal expertise, good morality and first-class professionalism in fields such as economy and trade. BAC's arbitrators come from 27 different countries and regions, including 27 arbitrators from Hong Kong and Taiwan along with 135 foreign arbitrators. Among 627 arbitrators, more than 130 are experts of stocks, securities and corporate law, and more than 80 are experts of architectural engineering. Besides, BAC also has arbitrators with expertise in investment, finance, energy, environmental protection, international trade, construction, real estate, intellectual property, franchise and leasing, capable of providing professional arbitration services for all kinds of complicated economic disputes.

Internationalized Arbitration Rules
The parties may agree on the laws and languages applicable for the arbitration.
The parties may agree on the place of arbitration other than Beijing.
The parties may appoint emergency arbitrators and take interim measures.
The parties may apply for consolidation of arbitrations and joinder of additional parties.
The parties may apply for the mediation presided over by the arbitral tribunal, and the parties of international commercial arbitrations may request the replacement of arbitrators in case such mediation is unsuccessful.
The parties may apply to BAC for the mediation by mediators during the arbitration process in accordance with the Beijing Arbitration Commission Mediation Center Mediation Rules.
The parties of international commercial arbitrations may appoint arbitrators other than those in BAC's List of Arbitrators.
The parties of international commercial arbitrations may select different charging measures of the arbitration fee.
The information disclosure procedures for arbitrators are stipulated.
It is stipulated that if any arbitrator refuses to sign the Arbitral Award, his/her opinions shall be attached to the Arbitral Award and delivered to the relevant parties.
It is stipulated that the arbitral tribunal of an international commercial arbitration shall make the Arbitral Award in accordance with valid contract terms and in consideration of relevant transaction customs in any circumstance.
It is stipulated that amicable arbitration is applicable to international commercial arbitrations.
Innovating Institution
BAC's Constitution stipulates that its Chairpersons and staff members shall not concurrently serve as arbitrators, and any of its Vice Chairpersons and committee members can only serve as an arbitrator when he/she chosen by both parties.
BAC's Ethical Standards for Arbitrators stipulates that BAC's arbitrators cannot serve as agents in cases handled by BAC.
BAC is the first Chinese arbitration body to formulate the Administrative Measures for the Engagement of Arbitrators, it adopts open and transparent engagement standards emphasizing on the professional quality of candidates. BAC also has established the system to train arbitrators, who by completing the train will be qualified for the engagement and preferential appointment of the job, so as to ensure the professionalism and elitism of its arbitrators.
BAC leads all Chinese arbitration bodies in formulating the Provisions on Improving Arbitration Efficiency and a series of regulations for case handling, and makes specific requirements on the time and important matters for its arbitrators. This is related to all procedural links including the acceptance of designation or appointment, information disclosure, preparation before hearing, hearing, documentation, extension of hearing limitation and appraisal, so as to provide its clients with better services.
BAC is the first Chinese arbitration body to adopt the temporary exclusion of arbitrators from the List of Arbitrators, and those who are suspect of violating the provisions on impartiality and independence in the Ethical Standards for Arbitrators. The Administrative Measures for the Engagement of Arbitrators are temporarily excluded from its List of Arbitrators before the relevant circumstances are verified through investigation.
Developing Diversified Dispute Resolution Mechanisms
BAC leads all Chinese arbitration bodies in formulating the independent Mediation Rules and the List of Mediators, establishing the mediation procedures independent of the arbitration procedures with the following advantages:
adhering to and emphasizing on the principle of voluntary participation;
the scope of case acceptance is not limited by written agreements;
the recommendation system is adopted for mediators;
fast, flexible and confidential procedures;
transparent fees and low costs;
independence from and connection with the arbitration.
As a new attempt of BAC in exploring diversified dispute resolution mechanisms, BAC's Review Rules for Disputes in Construction Projects was activated on March 1, 2009. Through its proactive attempts in this field, BAC not only has provided diversified choices for the resolution of relevant commercial disputes, but also has promoted the healthy development of the construction engineering industry.
Advanced Facilities
With its office in the China Merchants Tower located at the center of Beijing CBD (Central Business District), BAC offers convenient accessibility as well as first-class office facilities and working environment. BAC now has an office space of 7,000 m2 and can provide more than 70 parking spaces. Its twelve arbitration halls are all equipped with digital multimedia and teleconference equipment to realize such functions as hearing, mediation and training at different locations; some arbitration halls have the function of long-distance hearing all over the world. BAC's three international conference rooms and all arbitration halls are also equipped with simultaneous interpretation facilities, so as to meet the requirements for holding international arbitration conferences, arbitrator salons, arbitrator trainings and accepting international commercial arbitration cases. BAC has developed its professional office automation system for arbitration, instant message system and online office system, so as to realize the rapid transfer of messages with various modern communication tools including mobile phones, SMS and e-mails.
All disputes arising from or in connection with this contract shall be submitted to Beijing Arbitration Commission / Beijing International Arbitration Center for arbitration in accordance with its rules of arbitration. The arbitral award is final and binding upon both parties.