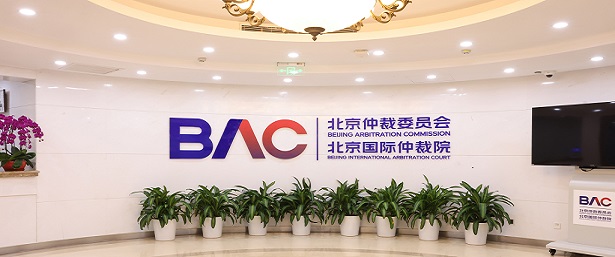 Beijing Arbitration Commission/ Beijing International Arbitration Center Signs Memorandum of Understanding with the Singapore International Mediation Centre
---
Publish time: 2019-10-15 Contributor:Chenxi Lin
On 15 October 2019,during the 2019 Singapore Summit on Commercial Dispute Resolution in China, Beijing Arbitration Commission/ Beijing International Arbitration Center (BAC/BIAC) signed Memorandum of Understanding (MOU) with the Singapore International Mediation Centre (SIMC) to strengthen the cooperation between BAC/BIAC and SIMC and promote international mediation and the interaction between arbitration and mediation.
The MOU was signed by Dr. Fuyong Chen, Deputy Secretary-General of BAC/BIAC, and Ms. NG Chai Ngee, the Board Director of SIMC on behalf of each side respectively. The signing was witnessed by Mr. Zhang Xumin, Chargé d'Affaires ad interim of the Chinese Embassy in Singapore and Ms. Gloria Lim, Director, Legal Industry Division, Ministry of Law.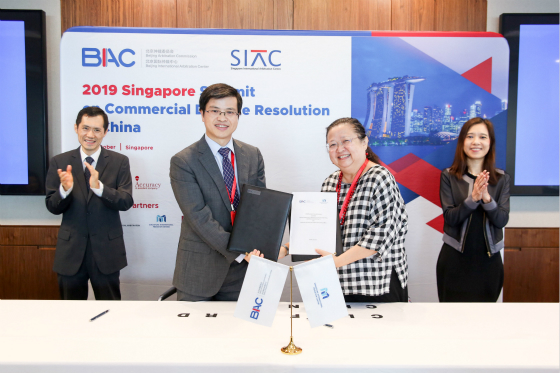 Signing Ceremony
Under the MOU, BAC/BIAC and SIMC will work together to jointly promote international mediation by co-organising conferences, seminars and workshops, and cultivating talents for mediation by co-hosting training programs. At the same time both parties will strengthen cooperation regarding case collaboration and information sharing.
Dr. Fuyong Chen pointed out, "With the diversified development of alternative dispute resolution, especially the open-signing of Singapore Convention, commercial mediation has become the focus of the dispute resolution community. Signing the MOU between BAC/BIAC and SIMC will start a new journey of cooperation between the two institutions, which will provide parties around the world with comprehensive and high-quality alternative dispute resolution services."
Ms. Ng Chai Ngee said "SIMC is very happy to sign the MOU with BAC/BIAC and we will have collaborations in various areas. SIMC and BAC/BIAC will co-promote the development of international mediation, and in the meanwhile, to provide better and more suitable service to the clients in China, Singapore and other jurisdictions."
BAC/BIAC insists on building a platform for alternative dispute resolution. Besides commercial arbitration, BAC/BIAC has launched its investment arbitration rules, commercial mediation rules and construction dispute board rules, which aim at providing diversified and suitable dispute resolution services that fit the nature of each dispute. Signing the MOU with SIMC is a significant step for BAC/BIAC to perfect its international dispute resolution services.
All disputes arising from or in connection with this contract shall be submitted to Beijing Arbitration Commission / Beijing International Arbitration Center for arbitration in accordance with its rules of arbitration. The arbitral award is final and binding upon both parties.