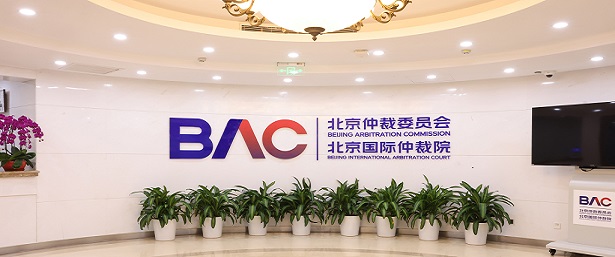 Symposium on Sports Dispute Resolution Successfully Held
---
Publish time: 2019-8-14 Contributor:Lu Yang
On the afternoon of August 2, 2019, the symposium on "Sports Dispute Resolution" hosted by the Beijing Arbitration Commission / Beijing International Arbitration Center (the "BAC") jointly with Blackstone Chambers was successfully held at the BAC International Conference Hall. This event belongs to the BAC Forum for Selected Professionals series, and has attracted roughly 100 professionals from enterprises, colleges, law firms and sports clubs. The BTV had a special report on the event.
Dr. Chen Fuyong, Deputy Secretary General of the BAC, delivered an opening address for the symposium. He pointed out that despite that the BAC has been primarily committed to commercial dispute resolution, sports dispute resolution also means great potential for it. On the one hand, sports dispute resolution covers sports related commercial disputes, such as disputes in connection with TV broadcasting, advertisements and sponsorship, and the BAC has dealt with a number of such disputes around the Beijing Olympics in 2008, from which it has gathered rich experience in this respect. On the other hand, although disputes arise from pure sports competition do not belong to the BAC's regular practice, the BAC could still provide hearing facilities for hearings of sports arbitrations. He also said that the BAC as a dispute resolution platform is willing to host such symposia, so as to promote the exchanges and dialogues between professionals from different countries and regions.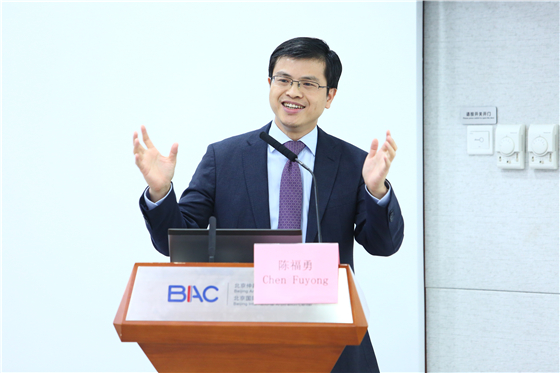 Dr. Chen Fuyong
Following Dr. Chen's address, Dr. Jiang Tao, Deputy Director of the Institute of Sports Law of the China University of Political Science and Law, delivered a speech. By reviewing the history of sports law studies in China during the past four decades, he pointed out that due to the clear definition of traditional department laws, sports law development in China has been embarrassed as it is difficult to be classified into any of the existing department laws. Based on the practice requirement for sports law and the efforts of those seniors in the sports law sector, sports law is finally recognized as a branch of legal theories and has achieved constant development. He called for a cooperation between theorists and practitioners for better studies of real and practical issues of sports law and joint promotion of the growth of sports law.
Dr. Jiang Tao
In the session of keynote speech, Nick de Marco QC, Barrister of Blackstone Chambers, and Ms. Cai Guo, Attorney of Jin Mao Law Firm, gave speeches on Sports Dispute Resolution Essentials and Jurisdiction and Applicable Law Issues in Sports Dispute Resolution, respectively.
Nick de Marco QC firstly introduced the two main categories of sports disputes: regulation oriented sports disputes and commerce oriented sports disputes, and analyzed the distinctions between the two types of disputes based on sample cases. Thereafter, he highlighted the main challenge to sports dispute resolution, namely, fairness. He was of the view that in light individual rights are concerned in sports disputes, fair adjudications are of great importance. Arbitration has advantages such as confidentiality, non- appealability and efficiency, and each of these advantages may have an influence on the fairness of the arbitral awards. For example, sports disputes heard in private will result in hard-to-find precedents. At last, he clarified his thoughts about the future improvement of sports disputes resolution mechanism, and provided a brief introduction of the Sports Resolutions in the UK.
Nick de Marco QC
Taking the Olympic Games, FIFA World Cup and other international sports events as examples, Ms. Cai Guo clarified that the jurisdiction of the Court of Arbitration for Sport (the "CAS") is originated from the Olympic Charter, the FIFA Charter, and constitutional documents of other international sports organizations, or, registration forms of the athletes. With respect to law application, she pointed out that if a dispute is heard by FIFA, or further appealed to the CAS, Article 58 of the CAS Arbitration Rules (indicating the application of FIFA rules) shall be in preference to the applicable law chosen by the parties. Pursuant to Article 57(2), the Swiss law shall also be applied as guidance and supplement to FIFA rules. And thus Chinese parties should fully take into account the influence of international rules and foreign laws (such as Swiss law) on potential cases they may have when having negotiation, drafting relevant agreements and dealing with relevant disputes, and are recommended to pay attention to the cultural differences between the east and the west, so as to better protect their rights and interests.
Ms. Cai Guo
At the end of the event, many audience raised questions concerning theoretical and practical issues they have met in sports dispute resolution, and the speakers answered all the questions patiently.
The Symposium
In recent years, sports dispute resolution has gradually developed into an important sector of international dispute resolution. In particular, some athletes, while actively participating in international sports events and achieving outstanding results, may have disputes with other athletes or relevant organizations or authorities, which often fill the press. That is why sports dispute resolution deserves attention and studies. The BAC has always been endeavoring to promote dispute resolution development in various sectors in China, and working hard to build platforms of exchange for professionals, both domestic and abroad. We sincerely welcome professionals in various industries to continue to pay attention to and participate in events organized by the BAC. You are also welcome to pay attention to the BAC's website and WeChat account for more information.
To watch the BTV video report on this symposium, please click " here ".
All disputes arising from or in connection with this contract shall be submitted to Beijing Arbitration Commission / Beijing International Arbitration Center for arbitration in accordance with its rules of arbitration. The arbitral award is final and binding upon both parties.